Yasushi Usami's Profile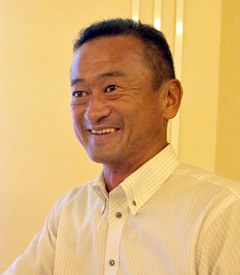 I'm from Hokkaido, and when I first visited a relative living in Hamamatsu, I was amazed at how warm it was, even though it was the middle of winter, and I was struck by the deep-green tea fields. Ever since that moment, I wanted to live in Shizuoka. I became one of the first students to enter the Opto-electronics and Mechanical Engineering Department in the Faculty of Engineering at Shizuoka University. At the time, the new department was just starting up—the teaching staff were hand-picked, students came from all over the country, and I was swept up by the enthusiasm of one of my professors who wanted to make Hamamatsu the Silicon Valley of Japan as an incubator of start-ups. I was also influenced by the president of the company I worked for part-time. From that time onwards, I wanted to run my own company.
After I graduated college I worked at a company in Hamamatsu, an experience that taught me a lot. Then, in 1991, I started a systems-related company called Systemix. Since then, Systemix has expanded to cover the development of production control and management software, Internet services, creation of websites for mobile phones, and other areas, responding to the needs of the day. The server business that we started 10 years ago is doing well, and moving forward, we would like to build a site that can serve as a data center, and to kick-start a data center industry in Hamamatsu. In addition to Systemix, we have also established a real estate company called Systemix Support, and a company in the food industry called Foodeliga. Systemix Support manages apartments and retail premises, and Foodeliga opened restaurants in November 2011 and October 2012. Although I myself have worked in the computer industry for 20 years, I believe that expanding into new domains will serve to help us achieve major business growth looking forward.
What is Hamamatsu's next industry?
I would really like to develop Hamamatsu's data center industry. Hamamatsu is situated midway between Tokyo and Osaka, and taking advantage of this, I intend to establish a data center for internal company system servers, which are different to Internet servers. While Internet servers can be located anywhere in the world, internal company servers must be located nearby in order to guarantee fast communication speeds. Currently, most small- and medium-enterprises situate their servers within their own premises, and lack back-up plans to cope with disasters. Rather than simply backing up data to the data center, I want to create a method by which such systems can be started in the event of disasters. The data center would mirror data between Tokyo and Hamamatsu, and Osaka and Hamamatsu, so that it can be utilized from either location. Accordingly, engineers would need to be located in Hamamatsu.
Hamamatsu is a dream location surrounded by the ocean and mountains
I firmly believe that Hamamatsu is a world-class location. The ocean, lakes, rivers, and mountains—everything is close by, with Tokyo and Osaka readily accessible. Hamamatsu's central location in Japan provides easy access to large parts of the country. The city also offers a full range of services and amenities. I love windsurfing, surfing, cycling, and bouldering, so Hamamatsu is perfect for me. Particularly noteworthy is the Murakushi swimming area that is located five minutes by car from our company's offices in Yutocho. Murakushi is perfect for windsurfing, regardless of the direction of the wind. When there is only a light breeze in the morning, one can enjoy surfing on the Omotehama coast, and then windsurfing in the afternoon on Lake Hamana when the wind picks up. Hamamatsu really is an idyllic location.
Source: http://www.npo-hamanakoclub.jp/bizinfo/member_zoom/no4.html